Hey y'all! I hope everyone had a good weekend. Saturday night was my last Delta Gamma formal :(. I can't believe I am about to graduate. Honestly, I don't feel like my time is up! I wish I could have the two years I spent at UCSB back so I could re-live them here at UCD. But then again, if I had never gone to UCSB, I probably would never have gotten to compete at collegiate nationals in triathlon. That was truly the experience of a lifetime. So, I'll just tell myself that those 3 hours were worth the two years of the insanity that is Isla Vista.  Saturday night was a blast, and if you have ever been to a sorority formal, you probably know they can be quite the sh!t show.
But not to worry, we kept it pretty classy!
Sunday was spent studying for a bio midterm, memorizing MCAT physics flash cards, and writing a 23 page lab report on the effects of parasympathetic and sympathetic input to the heart. You know, from that lab where I showed you the picture of frog. Some of y'all didn't like that very much…
Also as tradition on Sundays, I made waffles to freeze for the upcoming week. I have been working on this recipe for over a month now and I have finally perfected
the paleo waffle.
all dolled up with nowhere to go – except inside my belly.
and here they are naked…
And do not fret if you don't have a waffle maker! I bet these can easily be made into perfect paleo pancakes.
Perfect Paleo Waffles
Recipe: Makes ~7 waffles or 3 1/2 servings
Ingredients –
Sorry – this recipe has been removed until further notice!
Options:
for a gingerbread waffle, add a 1/2 tsp ground ginger, a pinch of nutmeg, and 1/2 tbsp molasses
for a maple bacon waffle, substitute the coconut oil for bacon grease and add 1 tbsp of maple syrup. Bonus points for also crumbling in crispy bacon bits!
Another nudie pic…
Seriously, these waffles are awesome. They required over 5 rounds of tweaking, but they are finally moist, fluffy, lightly sweet, and not a weird eggy texture. And they are grain free, sugar free, dairy free, and every other type of free you could possibly be. 
I consider 2 waffles (plus toppings of course!) a meal because each waffle packs so much protein and fiber. Check it!
So two waffles is 20 grams of protein and 8 grams of fiber! Slap on a few tablespoons of nut butter and youve got yourself a meal!
So, since it is technically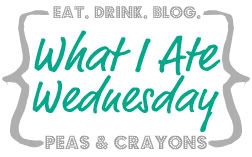 I will start with today's breakfast.
two paleo waffles (surprise!) with birthday cake cashew butter and toasted coconut shreds on 1, and Barney's almond butter on the other
And lunch was another bacon grease salad.
This one was such a winner. It had romaine, onions, tomatoes, carrots, and sprouts tossed with honey mustard bacon dressing and topped with a ton of turkey, two slices of crispy bacon, and blue cheese.
FYI: Blue cheese and bacon were made for each other. And beef.
Snacks included an apple and a Kind bar. And dinner was another tossed together salad before CrossFit. The WOD was uhhhmazing.
1 minute L sit

800 meter run

30 squat clean  (75 lbs)

100 double unders

30 headstand pushups (I used a box)

100 double unders
Post WOD I made my nightly snack that I have been hiding from you all for months. I seriously eat this almost every night before going to bed.
Coconut Dream Bowl
Recipe: Serves 1. Only.
1 cup plain greek yogurt
1 tsp vanilla extract
couple drops of stevia
pinch salt
dash coconut beverage
a high fiber coconut muffin crumbled in (recipe to come!)
topped with: toasted coconut shreds, coconut macadamia nut butter, and/or sliced almonds
Directions – Mix together the yogurt, vanilla, stevia, salt and coconut beverage. Crumble in the muffin and top with toasted coconut shreds, nut butter, nuts, whatever!
Alright, I'm out. Have a wonderful day!